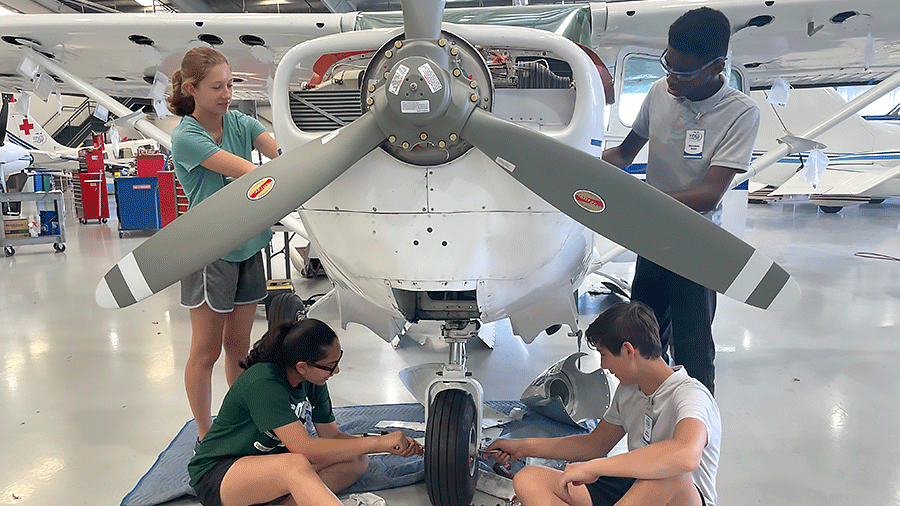 Wings of Hope Internship Programs
The Wings of Hope internship programs are designed to bring highly qualified and motivated students with diverse backgrounds into the organization to work on projects linked to humanitarian aviation. Its main goal is to give successful candidates the opportunity to improve their analytical and technical skills in a supportive environment.
Internships are open for students who are enrolled in academic institutions at the high school or university level. Selected interns are onboarded both remotely and/or in-person at the Wings of Hope headquarters. The internship program is open on an ongoing basis, and applications are accepted throughout the year. Internship start dates will be based on your dates of availability and the Wings of Hope team schedules.
Selection Process
The selection process consists of four main stages:
Your online application and cover letter (submitted via online form).
Pre-screening: All applications are screened by the education coordinator and director of programs.
Interview: Wings of Hope team may invite candidates to complete an interview.
Offer: If you are selected following an interview, you will receive an e-mail with your internship offer letter.
Are You Interested?
You can submit your application anytime:
Explore Internship Opportunities
Soar & Explore
Summer Experience for High school and vocational students
Capacity: 6 students per summer
Description
This 4-week summer program provides an opportunity for high school, technical or vocational students to experience the world of aviation in educationally relevant work assignments through positive working, learning and developmental experiences.
Opportunity
The student will have the opportunity to learn through collaboration with Wings of Hope mentors.  After a placement interview, the student can follow one of the following educational pathways:
STEM/Aviation Pathway
Airfield tour
Hands-on work in the hangar
Dive into aviation and STEM topics with mentor
Nonprofit Management Pathway
Event planning
Program development
Administrative support
To be eligible, you must:
Be enrolled at an academic institution at the high school or vocational level
Complete the internship application, waivers and permission slip by end of June
Complete the interview process and be offered a position
Compensation:
Unpaid position
Location:
Wings of Hope hangar at Spirit of St. Louis Airport
Ready for Launch
Internship for Undergraduate Students
Capacity: 2 interns per year
Description
The program offers a variety of hands-on, short-term internship programs for undergraduate students still in school. The internship offers a unique experience through hands-on training, mentorship and professional development. Internships can be conducted anytime throughout the year depending on staff availability.
Opportunity
Interns work with mentors from the organization to develop projects that support the Wings of Hope mission. They also gain familiarity with the nonprofit workplace and are given the opportunity to apply academic skills to real-life work experiences.
To be eligible, you must:
Be enrolled at an academic institution at the undergraduate level
Complete the internship application, waivers and permission slip
Complete the interview process and be offered a position
Compensation:
Determined on a case-by-case basis
Time length:
Fall, spring or summer (3-4 months)
Fly with Purpose
Practicum Experience for Graduate Students
Capacity: 2 practicum students per year
Description
The Wings of Hope Practicum is designed to support the next generation of nonprofit leaders. The fellowship highlights an intentional focus on leadership development and provides a combination of on-the-job experience and theory, allowing for real-time application and deeper learning. Wings of Hope will provide a support system in the form of cohorts, mentors and networks.
Opportunity
Practicums often focus on one specific research question. Students may develop their practicum question or work with their academic advisor and Wings of Hope mentor. The student will take full leadership of the project under the guidance of the assigned Wings of Hope Director. The student is responsible for coordinating with the university to ensure that all requirements are met. Practicums can be completed in-person or remotely, depending on project.
To be eligible, you must:
Be enrolled at an academic institution at the graduate level
Complete the internship application, waivers and permission slip
Complete the interview process and be offered a position
Time Length:
Semester or academic year
Compensation:
Determined on a case-by-case basis