U.S. Medical Relief & Air Transport (MAT) Program
Nautical Miles Flown
in 2022
Gallons of Fuel Consumed in 2022
The Wings of Hope Medical Relief & Air Transport (MAT) Program provides medical air transport services, free of charge, to individuals who need specialized medical care that is not available to them locally. Using aircraft specially outfitted with stretchers to accommodate fragile and non-ambulatory patients, we fly individuals to hospitals and treatment centers in 26 states within a 600-mile radius of our St. Louis headquarters.
To request a Medical Air Transport, please fill out the MAT Flight Request Form or call us at (636) 537-1302
Although we place no age restrictions on those we transport, a majority are children with congenital disorders, and rare or life-threatening health conditions. Once we start transporting these individuals, we commit to transporting them to post-op care and treatment for as long as necessary. The MAT Program relieves these individuals and their families of the stresses and financial burdens of arranging and paying for travel.
We rely on a highly skilled team of volunteers to provide safe, reliable transportation for the people we serve. Our volunteer pilots, mechanics, doctors, nurses and patient flight advocates must meet our strict training and licensing requirements. Our pilots must have their commercial pilot's license and instrument rating and logged at least 1,000 hours in small aircraft.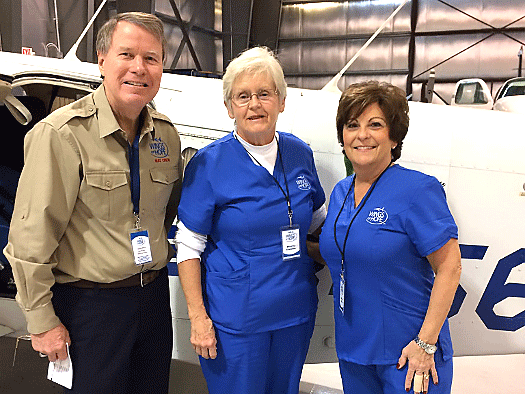 "I am passionate about flying and helping people. Volunteering at Wings of Hope is a perfect opportunity for both."         – Jack Taylor, MAT pilot
Meet Some of Our Patients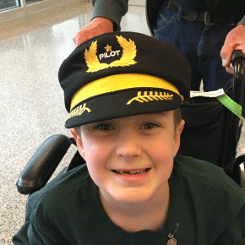 We fly Mason to St. Louis Children's Hospital for treatment of a difficult and regressive case of clubfoot. Mason is on well on his way to walking brace free – and when he grows up, he wants to fly for Wings of Hope!
"All this has been so very overwhelming to us and your help has been so great. I don't know if I could survive without your help!" Mason's mom, Carla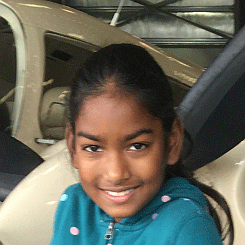 Gracin was born with one leg shorter than the other. We fly her from central Kansas to St. Louis Shriners for bone lengthening. Gracin spends four hours a day doing physical therapy. Her mom, Traci, says she "couldn't imagine adding 16 hours driving to that routine every two weeks." When asked what Wings of Hope means to her, Traci says, "There are no words."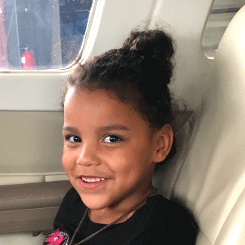 Born premature and with mild cerebral palsy, Elizabeth spent the first five years of her life pulling herself around using her forearms, aka doing the "military crawl." We flew Elizabeth from rural Kansas to St. Louis Shriners Hospital for major surgery – and continue to fly her for post-op treatments. Now, she is walking with a walker!